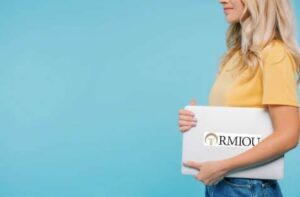 Below are testimonials from women and men who share how God led them to forgo studying the things of the world, in order to gain money and a better job—but instead how He led them to study to know and experience HIM and how they used this knowledge and wisdom to minister to other women or to minister to other men.
There are so many ways to become a worker@home, setting your own hours, with more time to care for your home and family, while working for the most generous and understanding Boss—the Lord Himself.
A month prior to finding RMIOU, I started a semester to get my Master's degree. I thought how wonderful it would be to have another degree and get paid more. Well, my marriage began to unravel. Not only did my husband sit me down to tell me he was involved with another woman, but he felt it was time to introduce the kids to her because on a night I was attending class she happened to be "around".
After about another month of attending classes, I was praying hard and God spoke to me very clearly to stop and drop out. I was shocked and very worried because my father had paid so much money for me to attend and when I started I had my husband's support. So I reasoned they would be upset if I quit at this point. But God spoke to me again, "if you want to better yourself, study Me, learn about Me, spend time with Me". The bigger shock was when I told my dad and husband that I had decided to stop my studies at the university, and both said OK, just like that, no questions, no emotions. That was all I needed to confirm this was the right decision.
Now more than a decade later, I have my own ministry and my life has never been the same.
Natasha in New Zealand

★★★★★
God showed me the importance of being a better homemaker, something I simply couldn't do when I was attending school. So I gave up finishing my university degree at my husband's request and all I can say is that I feel so much freer now and for the first time I know I am in God's will. At RMIOU I was not only able to take online courses at my own pace, allowing me to remain at home and do a better job, but it's part of what changed me and what helped to bring my husband back.
Jack in Canada ★★★★★
RMIOU has been like family and friends. I feel so happy because of all the training available giving me the confidence that I am more than able to minister to anyone and everyone I meet who needs encouragement. Many times it's just me sharing my own journey, boasting about my failures and then sharing the HopeAtLast.com site with them. Thank God I have been pointed in the right direction; back to His Word and His truths. My hope is to rescue and serve my community as a minister.
Paula in California ★★★★★
For the past nine years my son has been struggling financially due to the student loan his wife took out to get her college degree. She used her degree for only a year or two but now is an amazing mother to my wonderful grandchildren and now is not sure she'll ever use her degree again. Yet at the rate they are paying it down, it could be close to 20 years before it's paid off, which is after their children (my grandchildren) will graduate from high school and I hope not obtain a student loan or even attend a university. 
Recently I read in the BBC news about how horrible the U.S. is and how senior citizens were still paying on their student loans long after they retire!! It also explains student loans are the ONE debt you cannot get out of (like most when you can declare bankruptcy) and I again had to thank God I found RMIOU. I've also shared this openly with others who are contemplating going into debt to obtain a degree, which many women later don't use, like my DIL. Higher education simply doesn't always result in obtaining more money, and as the article explains, the debt could haunt you for life.
After my divorce, I was left with thousands in debt and once I became debt-free I was determined to never let that happen again. So this is what appealed to me most about RMIOU and their scholarships that are extremely easy to obtain. Not only am I not incurring new debt, but the ministry opportunities also allowed me to make some additional income is helping me use the money to bless others and donate to more ministries.
Mary in Arizona ★★★★★
The reason I am interested in being a minister is that I wanted an opportunity to be of service and give back to other women what I learned from my own experiences, along with the strength and hope I've found. I was five years old when my parents divorced. I was seven when I was sexually abused by a family member. I was eleven when my dad was sentenced to an eight year prison term. I was a preteen when I playfully experimented with a demonic board game. I was 13 when I became sexually active. I was 14 when I was pregnant and became a mom one month before my 15th birthday. I was 16 years old when I moved out and became, by worldly standards, independent. Shortly thereafter, I started drinking which progressed to smoking marijuana and later crystal meth. By 17, I had had two back-to-back abortions and became pregnant, again, this time giving birth to my daughter. By 18 years old, I was mom to a three & half-year-old and a newborn.
To be a model and an example that these principles do work, that we can trust Jesus and become His Bride and have a relationship with Him like never before -- that His plan is to prosper us and NOT HARM US. I can't keep any of this peace if I don't keep giving it away to other women who are hurting.
Jillian in Ohio ★★★★★
The reason I want to be a minister is because I empathize with women in crisis and want to show them His love.
John in Brasil ★★★★★
Having a ministry means the world to me. RMIOU has taught me so much more of the true meaning of scripture and of God's word than I have learned from any church I've been involved in all put together.
Yasmine in Colorado ★★★★★
Why do I love being part of RMIOU? Because there is no doctrine that tickles my ears giving me warm fuzzies. Here I am fed sound doctrine grounded in the Word. The bible says His truth reveals the nature of a man's heart. That is what I need. Before coming here I'd been given unbiblical advice by every Christian and pastor. And even scarier doctrine found in most churches is masquerading as the word of God. The irony is that IN church I felt so alone. I would reach out to churches, pastors, elders, their wives, when I lived in many different states. To say that I was received like a cockroach found in the pudding was an understatement. I hesitated to apply to your courses at first, I was very apprehensive because I believed I was too wicked. But I was welcomed with open arms and have since changed, finding peace.
Tonia in Texas ★★★★★
Coming from the Church of Jesus Christ of Latter Day Saints the lessons and teachings of RMIOU has helped me to learn more about being a godly woman with a gentle and quiet spirit. I am an educator at heart, I love teaching so RMIOU was a perfect fit. During this season of my life, God has removed a lot of people, but He has Placed People in my life that are experiencing difficulties in their lives, and by the Grace of God, I have been able to encourage others and give them hope. Praise God.
Amelia in Connecticut ★★★★★
I would love to be there for another woman in marital trouble as my friend is for me. She went through it by herself and by God's guidance she now has a restored marriage, and she's walking with me on this journey. What she is for me, especially what she was when I just started out and was falling apart, I'd like to be that to another woman for I know the anguish and pain of such abandonment. All the better if there's training available to enable me to do that. I'd love to form a community in the future to encourage one other during such trying times.
Katie in Florida ★★★★★
I really not sure why I wanted to be trained as a minister, but as I was going through some trials I felt the urge to do something, I have been secretly praying for friends that I know are going through marriage issues but refuse to seek God for help. I also been approached by quite a few older women admiring me for something I am blessed to hear "I am covered with God's grace" I have been secretly praying for my mom's marriage and praise the lord I can feel and see signs of her restoration. Before my marriage crisis, I knew somehow I was always everyone's personal counselor.  It is in my nature to always try to help others rather than myself. It is my nature even today, I would run to my HH and cry my heart out because of what is going on in my life, then dry my tears, to go back into work to see someone sad, where I have my God-given way to make sure that someone would have a smile on their face. I can't pray for myself, I can't help myself but others find me helpful somehow. I would give the world to be able to help or prevent someone else to go through what I have been through but am so thankful because it brought me to find my true calling and be able to have the confidence that I am showing them the correct narrow path to having a relationship with the Lord.
Bernice in Texas ★★★★★
Though I have a Masters's degree, RMI was a Godsend to me. RMI is what the Lord used to take the veil that obstructed my view, helping me to see life clearly. I would love to do something that means more than making money and paying the bills. I wanted my life to mean something...I wanted to wake up excited to see what God has planned and use me to change lives! Now I do. Right away we are encouraged to begin ministering to just one person with a simple voice note ministry that anyone could do.
Libby in Australia ★★★★★
Now that I know and have complete faith that my situation is covered and to wait for the Lord's promises at the appointed time, I thought why not share the wonderful things He's done for me with others? The Lord and RMI have done so much for me to get me out of a very painfully dark time of my life. I am desperate to be able to be used for HIS glory by helping others to either see the truth before suffering as I did for nearly a year or to possibly give hope to someone (facing multiple addictions, depressions, anger, etc. as He's helped me overcome) I have so much to share about the Lord's greatness in the impossibles and am excited I have an outlet for all that He's put in me! Thank you RMIOU and every one of your ministers for helping me!