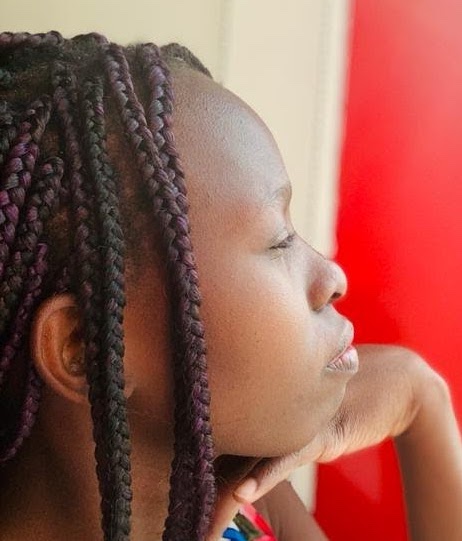 ~ Bella in the Uganda is RMI's Translator, another VIP who is bringing the truth and God's love ❤️ to her people who speak Luganda. Bella felt called to and began studying to be a 👑 His Princess Coach 👑 maybe due to being a mother herself.
After her restoration with her First Love, she developed a zeal to minister and be part of the beautiful story of many women in relationship crises. She understands the beauty in finding Him who loves our souls. She believes restoration is all about returning to our FIRST Love and enjoying the promised abundant life.
Bella is Restored! Don't miss reading her testimony RESTORED Marriage Testimony: "He Blocked Me and I Never Saw Him Again"
Bella, when did you first find RMI?
I first found RMI in August 2021 and after my marriage was restored, I enrolled in RMIOU and am studying to be a 👑 His Princess Coach 👑
How did your Restoration Journey begin, Bella?
My restoration journey began in March 2021. This started when I got the revelation that re-marrying is adultery and reconciliation was possible. I did not know how all this would happen because by that time everything was hopeless and things were going from bad to worse. I heard a sound within me that if God could resurrect Lazarus there is nothing dead that cannot come to life. After one Pastor who I believe knew there was a solution came and told me even if the furnace could heat up more than 7 times God would be with me. I looked for solutions and I talked to a number of people but there was no convincing way to know how to walk this Journey.
I searched online, joined almost all marriage restoration ministries, read, prayed, and tried hard. Praise God, one day I was reading other people's marriage restoration testimonies online and that is where exactly I found Restore Ministries International on 8th/August/2021. Most of my queries about the hope in me were answered.
The faith within me that marriage restoration was 100% assurance from God. This was clarified by RMI through the word of God which was the truth, but the beauty about it was that my restoration with God was more important. That is how my restoration journey began.
What brought you to RMI, Bella? 
I came to RMI because I was looking for hope and answers from the word of God for that what was impossible was possible. I came to RMI because I had no one to walk the restoration journey with. I had spoken so much to everyone and I had pursued my earthly husband often without letting go. I was desperate to see marriage as God created it to be. There was no hope in my marriage but I had hope within me which nobody believed so this brought me as well to RMI because it clarified my Hope and How God can and will restore my marriage.

I came to RMI for hope, answer, prayer, and a person to walk the restoration journey with. 
Bella, What has RMI and/or Encouraging Woman done to help you, and what has it meant to you? 
RMI has helped me see myself and the log in my own eye all the time. This means I no longer focus on other people's specs. I thought I knew God and had a close relationship with Him but it's only when I came to RMI that I realized that I had lost my first Love many years back meaning all priorities were not in place even though I was in full-time ministry and was just lost in work. I thank RMI for pointing me back to my First love and helping me build this relationship even when I fall it is now easy for me to look up. I cannot explain but thank God and the ministry. My relationship with God was restored when I came to this ministry.

RMI has made me realize that I am a bride to our Maker. Yes, I knew the scripture Isaiah 54:5 before but now am living it. Understanding that if I do have my Heavenly Husband Whom sometimes I call my Pilot because He leads me, has the campus, and makes sure I land safely. I have everything when I do have HIM. He is all I need and I have ever wanted.

All this means a lot to me. It means that the Lord desires an intimate relationship with me holding the first position in my life. He is all I need to function everywhere and as long as I still hold my breath. One thing I have come to realize is that there is a will of God and purpose for me. This all means that I should point everyone to Him when He illuminates doors.
How have you, and how has your life changed, Bella, since learning of the promises and applying the principles from RMI?
I have become more relaxed, peaceful and my temper is no longer the way it used to be. I have learnt to run more quickly to Him than any other person like I used to do. I have realized my tears are more precious to Him than anyone else. My eyes and ears have been opened to not just look at the beautiful promises but the importance of applying the principles in my life. I realized that waiting for the promises without applying the principles is a waste of time.
Currently, I enjoy applying the principles more because I am sure if I delight in Him I will be planted along streams of water that shall never run dry and my leaves shall not wither in every season. I have understood that grace never stops me from applying the principles. My life has changed depending on how I view my God. I close my eyes and see my Husband call me beautiful every day. He leads me to the banquet hall and His banner over me is always love.

I have learnt to let go even in situations that I desire to know the what, why, how, and where. Talking to my Heavenly Husband is more than enough. I have learnt to just work with Him in all spheres of my life. Knowing that He is all I need and when I do have Him I have everything else.
Bella, why are you interested in becoming a Minister? 
Yes,I always loved ministering and every time I was part of a local church would find service opportunities. Am more than interested to share this beautiful feeling. Sharing and ministering was my interest the day I joined RMI. I always asked Him for opportunities and I thank Him for the restoration Journey was the exact door that would lead me here.
Who is FIRST in your life, Bella? How did this come about? 
God is first in my life. This came about when my house which was on sinking sand collapsed. He showed me how i have had my earthly husband first, not only that I being a people pleaser was worshiping the church, the Pastor, and the entire ministry. I realized that I was running to everyone when I had a problem and later on I could not control the consequences. Oh My God, I could talk to everyone because I was always looking for a shoulder to lean on. The crisis that led me online until I found RMI helped me find my FIRST LOVE. I was able to see how many things were first and not HIM. I now enjoy being vulnerable to my Heavenly Husband without fear or shame. Enjoying what He tells me and how He leads me.
Are you currently "seeking" restoration for your own marriage, Bella? WHY or why not?
 I am already restored, but this is currently not the most important thing because I fell in love with HIM. My perspective about marriage restoration changed because it is my relationship with Him which is very important and it is only when He becomes first in my life that I can experience heaven on earth. My joy is not found in my restored marriage but in Him. #RESTORED Marriage Testimony: "The Turning Point Was Confusing"
Bella, Which resources helped you the most? Which are your favorites? 
Everything is awesome and I share it with women. Currently, I am enjoying the Abundant life which leaves me in awe, but still reading again and again "How God can and will restore your marriage". This book is different every time I read it again. The revelation and insights are different. I noticed it speaks to me and focuses on changing me, not the other person. "Wise woman" is a beautiful one; re-reading has become an incense of learning and applying especially when I do have the book.
I realized it's not just about marriage but everything. The courses are awesome and the daily encouragement. 

Being part of the telegram encouragement is awesome. Sometimes I receive a promise that is a double confirmation of what He is telling me to do or to believe. Zoom meetings are exceptional. Coming to a meeting full of praises, promises, and sharing hearts from the lessons keeps me focused. They are not the usual lady meetings where faults are being identified all around us.

Every resource from RMI is so good that sometimes I am lost at the website and I do want to chew everything at once. So I have to listen to the advice of one lesson per day / per week. Am telling you I have to talk to myself to take it easy tomorrow.
Bella, what would you like to say to a woman who is reading your BIO? How would you begin ministering to her?
Dear loved one, I do not know what you are going through whether you are currently at the mountain top or even in the valley. One thing I want to assure you is that God is everywhere but He is waiting upon us to make a choice and accept His beautiful proposal of being His bride and first in everything. The most important thing in our lives is having God number one in everything we do, thoughts, heart, and soul. That is the beginning of enjoying Heaven on earth. It is said that happiness comes with happenings but Joy is everlasting. We can only have this joy when we find and live an abundant life.
Remember at the very beginning of the Creation of the world He spoke His word and it responded by creating.  Therefore everything can and will be created in your life if only you are ready to read the love letters, follow His principles and believe His promises. Accept His proposal and be His bride, this will be the best decision you would have made today. He loves you so much and He's waiting for you now!